Wagyu Steak Sampler Set - is currently on backorder. You may still purchase now though and we'll ship as soon as more become available.
Order Includes
Assortment of Steaks
Best for
Grilling & Braising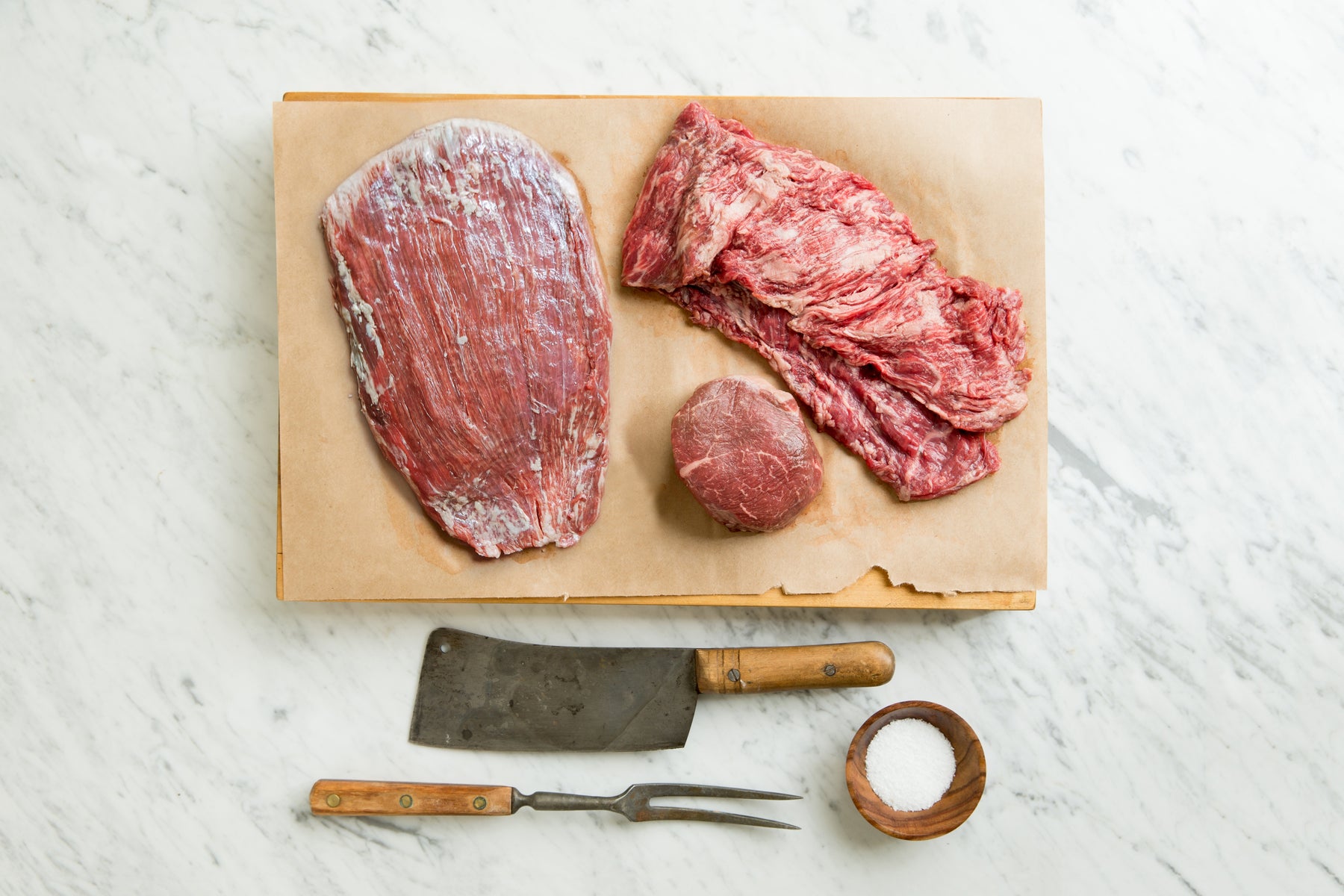 Product Details
We get it. Sometimes decisions aren't easy to make. You could be overworked. You could be overtired. Or you could be overwhelmed by all this incredible Wagyu and just can't decide which of our amazing cuts you should buy.
We got you.
Our Wagyu Steak Sampler set is a collection of three lesser known, fantastically delicious cuts of Wagyu beef: Inside Skirt, Flank Steak, and Top Sirloin. All three are wonderfully marbled and rich, and all three can be prepared in a variety of ways.
So now you can relax. You may still be overworked and overtired, but you will never be over-Wagyu-ed.
Looking to try a variety of our cuts? Then our ultimate Steak Sampler is for you. This set includes three of our popular 100% Fullblood Wagyu steaks so you can get a taste of them all. 
Each Wagyu steak sampler set includes 

1 Inside Skirt Steak

, 

1 Flank Steak

and 

1 Top Sirloin Steak

Average weight: Inside Skirt Steak weighs 1.25 lbs, Flank Steak weighs 1.5 lbs and Top Sirloin Steak weighs 8 oz. 
Wet aged for 56 in own juices for ultimate moistness
Ships frozen in individual vacuum sealed packages, on dry ice
No Hormones, No Subtherapeutic Antibiotics
Please note, due to natural variations in our cattle, weight of actual product may vary.
Product Details
Variety is the spice of life and our Steak Sampler Set offers the best steaks to experiment with. Our Sampler features three of the lesser known cuts. While they don't always get the attention of our Ribeyes or Filets, these steaks are fantastic options for more creative recipes or straight from the grill. Being 100% Fullblood Wagyu, they are richly marbled and incredibly flavorful. An experience that can't be missed! 
Expand for details
Preparation Tips
Thaw your Wagyu in the refrigerator for 24 hours. Once thawed, allow meat to reach room temperature for 30 minutes.
Check out each of the steaks individual product pages for preparation tips. 
See below for more Recipes and Tips featuring our included 100% Fullblood Wagyu Steaks
Prep Tips
Thaw one or all cuts from your Wagyu steak sampler as you see fit
(see below under "Handling and Thawing" for deeper guidance). We also suggest bringing thawed steaks to room temperature for 30 minutes or so.
We always recommend cooking Wagyu steak to no more than Medium Rare. But your oven might throw heat better than ours, or you might be at sea level while we're up past mile-high. So, for the love of all things holy - like your precious Wagyu - take our timing specs with a grain of proverbial salt. Use your common sense and maybe even a meat thermometer and don't take our word for gospel.

My steaks arrived on time and expertly packed.
Carla K., Verified Customer
Shipping Information
We ship via UPS & FedEx. Our standard ground shipping is 3-Day Ground. We also offer 2-Day Air, Overnight, and ** Overnight with Saturday Delivery options to ensure you receive your order for your special meal. Email info@lonemountainwagyu.com with any shipping and delivery questions. Not all areas are available for Saturday delivery, please email us for availability. Orders placed after 10am CST will ship the next eligible day, based on shipping preference.
*Free Ground Shipping for orders $100+ after discounts applied *(excludes Hawaii & Alaska)*
Free 2-Day shipping for orders $200+ after discounts applied
Ground shipping: $25 for orders under $100 (excludes Hawaii & Alaska
2-Day shipping: $55 for orders under $200
Overnight shipping: $75
See full delivery schedule
Handling & Thawing
Not digging into your Wagyu right away? Place your vacuum-sealed package in your freezer upon delivery. Your meat should be good for up to 12 months in your freezer… though we doubt it will stay there that long!
Have some time? Thaw your beef in the refrigerator for up to 48 hours. This is the best way to thaw, allowing the Wagyu to retain all of its natural juices for an exceptional flavor.
Hungry sooner? Keep beef in the vacuum-sealed package and submerge in a bowl of cold water for a few hours.
Change of dinner plans? Thawed steaks still in the vacuum-sealed package can be safely refrozen as long as they have remained refrigerated and have not been thawed for longer than a day.