Wagyu Beef Summer Sausage - is currently on backorder. You may still purchase now though and we'll ship as soon as more become available.
Order Includes
Various Quantities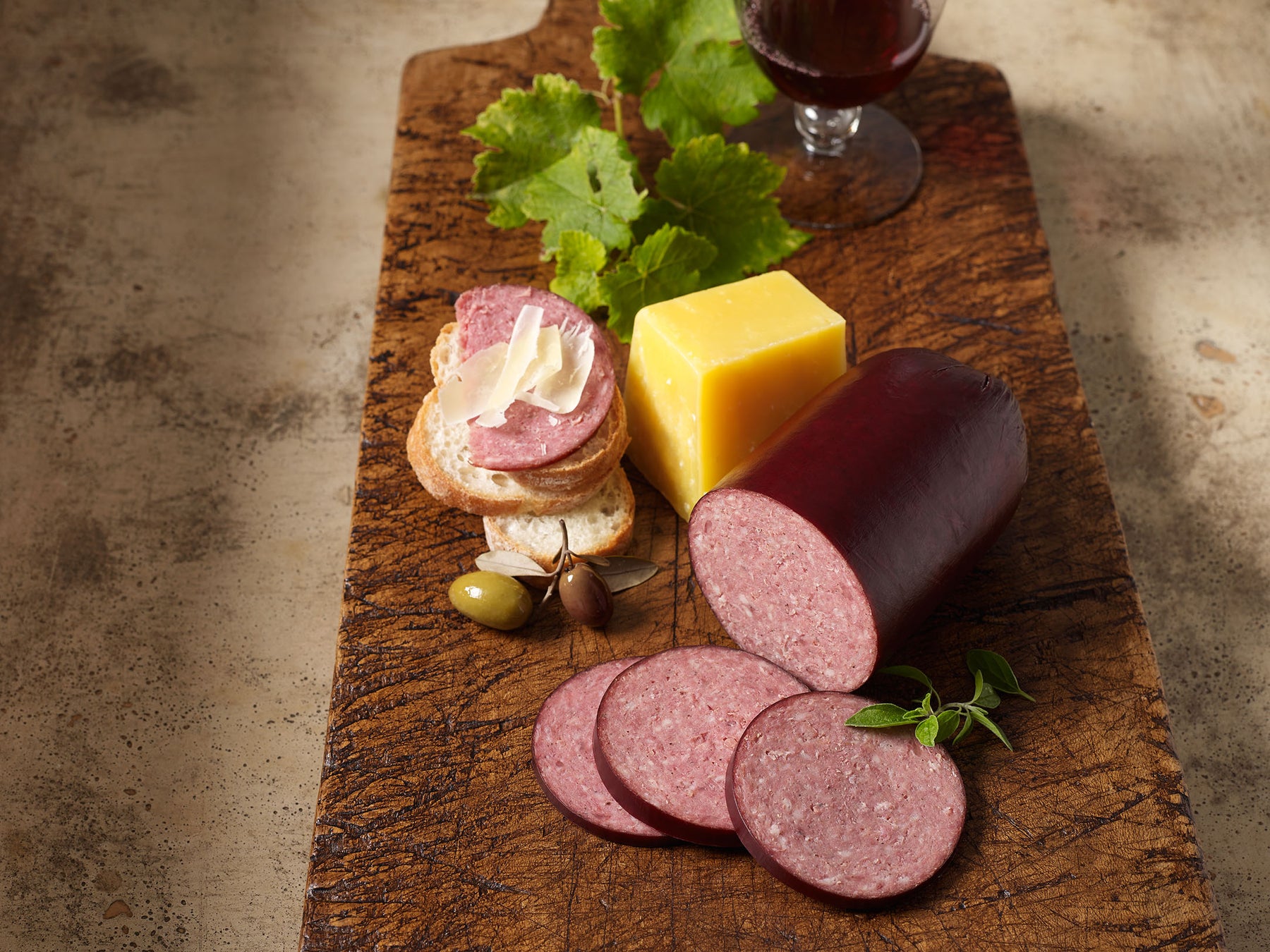 Product Details
A picnic in the park with Wagyu! Can you imagine anything better? Soft warm breeze. Gentle sun. And a Summer Sausage made with Filet Mignon, Striploin, Ribeye, Flat Iron, Brisket, and Ground Beef. And a bottle of champagne, just because.
This is no dream. This can be your reality. Our semi-dry Summer Sausage (a bit more tender than a salami or pepperoni) can follow you anywhere and turn any outing into a feast. Or use it for sandwiches. Or just eat the thing whole. It doesn't matter. It's Wagyu. It's fantastic. Share it, or don't… it's up to you.
Each Summer Sausage weighs 1 lb.
Arrives frozen, shipped on dry ice
Ready to eat upon thawing
Gluten free, dairy free
All beef (no pork casing)
No preservatives, nitrates, nitrites, or fillers
No Hormones, No Subtherapeutic Antibiotics
Best consumed within 7 days of thawing
Product Details
Do you love to entertain? Or pack gourmet picnics for an outing? Or give your everyday snacks and dishes a decadent twist? Then our award winning, 100% Fullblood Wagyu Beef Summer Sausage promises to be your new goto culinary star. Made from a blend of our select cuts including Filet Mignon, Striploin, Ribeye, Flat Iron, Brisket, and Ground Beef, this sausage has an amazing flavor and luscious texture only 100% Fullblood Wagyu can impart. We promise it will be tastier than any other Summer Sausage you've ever tried. This is a semidry sausage, with a more moist texture than salami or pepperoni.
Because we use 100% Fullblood Wagyu beef in our Summer Sausage, the taste is unmatched. Famous for its extensive marbling, Wagyu Summer Sausage is truly unlike any other Summer Sausage you have ever tried.
Expand for details
Preparation Tips
Thaw your Summer Sausage in the refrigerator for 24 hours. Remove outer casing, then slice to your desired thickness for immediate enjoyment or cut according to your recipe.
Our Summer Sausage tastes delicious and makes a great snack on its own, paired with cheese and crackers, or on a sandwich. There are lots of ways to enjoy our 100% Fullblood Wagyu Beef Summer Sausage and it makes the perfect gift when visiting friends and family.
See below for more Recipes and Tips featuring our 100% Fullblood Wagyu Summer Sausage
Prep Tips
Thaw the prized Wagyu product as you see fit (see below under "Handling and Thawing" for deeper guidance.).
Unwrap, slice, serve and enjoy with your favorite crackers, cheese and spreads. Or just eat it by itself. It's that good.

Amazing birthday gift. The summer sausage is the best I have ever had.
Jeff, Verified Customer
Shipping Information
We ship via UPS & FedEx. Our standard ground shipping is 3-Day Ground. We also offer 2-Day Air, Overnight, and ** Overnight with Saturday Delivery options to ensure you receive your order for your special meal. Email info@lonemountainwagyu.com with any shipping and delivery questions. Not all areas are available for Saturday delivery, please email us for availability. Orders placed after 10am CST will ship the next eligible day, based on shipping preference.
*Free Ground Shipping for orders $100+ after discounts applied *(excludes Hawaii & Alaska)*
Free 2-Day shipping for orders $200+ after discounts applied
Ground shipping: $25 for orders under $100 (excludes Hawaii & Alaska
2-Day shipping: $55 for orders under $200
Overnight shipping: $75
See full delivery schedule
Handling & Thawing
Not digging into your Wagyu right away? Place your vacuum-sealed package in your freezer upon delivery. Your meat should be good for up to 12 months in your freezer… though we doubt it will stay there that long!
Have some time? Thaw your beef in the refrigerator for up to 48 hours. This is the best way to thaw, allowing the Wagyu to retain all of its natural juices for an exceptional flavor.
Hungry sooner? Keep beef in the vacuum-sealed package and submerge in a bowl of cold water for a few hours.
Change of dinner plans? Thawed steaks still in the vacuum-sealed package can be safely refrozen as long as they have remained refrigerated and have not been thawed for longer than a day.