Wagyu Beef Jerky - is currently on backorder. You may still purchase now though and we'll ship as soon as more become available.
Order Includes
Assortment of Quantities
Best for
No Cooking Necessary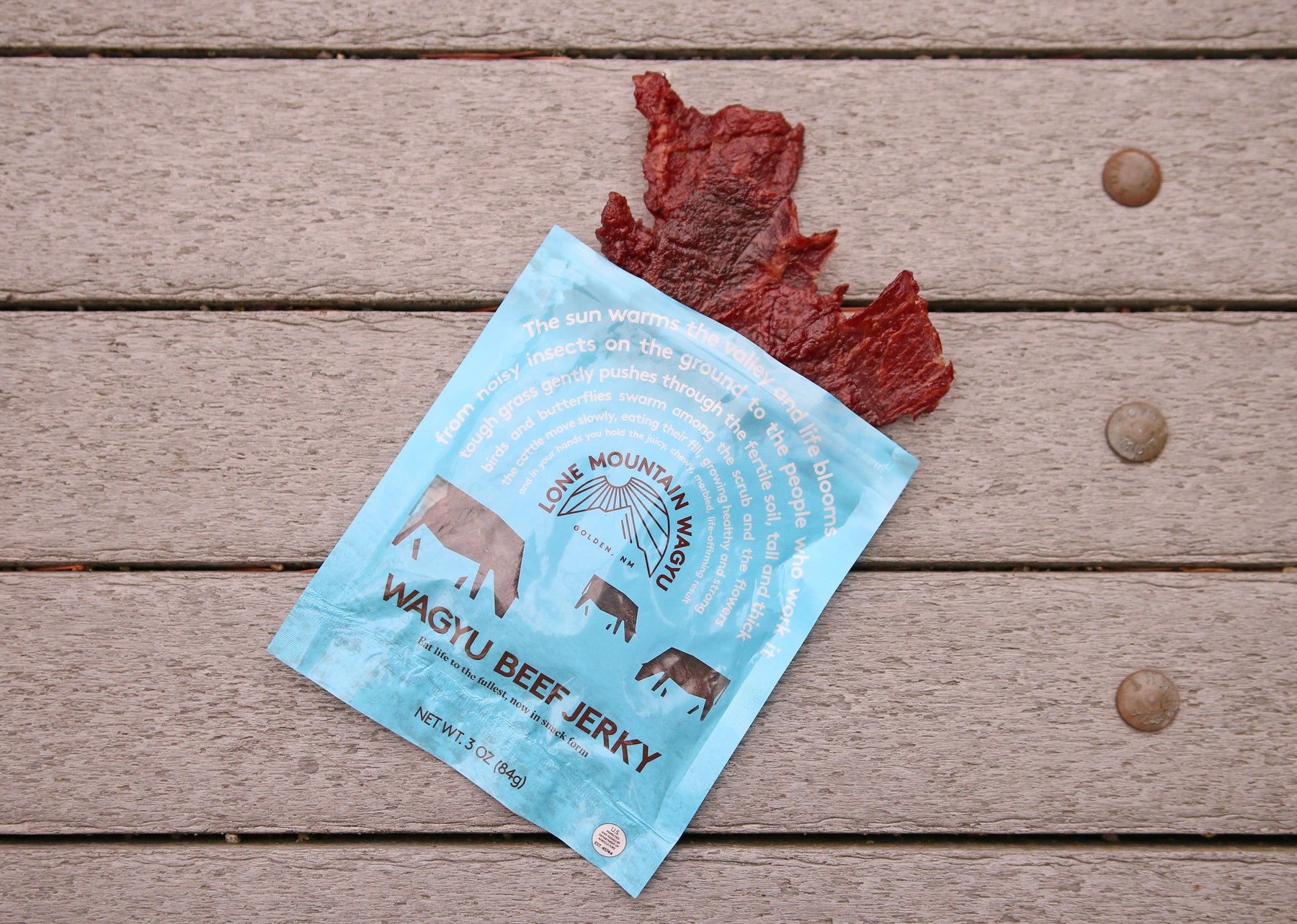 Product Details
All Wagyu Gourmet Beef Jerky. Why hasn't this been made before? And why haven't you eaten it? And if you have, why aren't you ordering it again? But you're here, so you're probably going to order it again. And if you haven't, you're going to order it for the first time.
Either way, you're going to get hand-sliced, smoked cuts of Wagyu beef, seasoned immaculately with salt, garlic and 100% pure maple syrup.
Chewy. Salty. Sweet. Tender. Perfect Wagyu Beef Jerky.
Come back soon.
New look, same great taste! Our gourmet Beef Jerky is hand sliced and smoked from select cuts of our 100% Fullblood Wagyu Beef, perfectly seasoned with salt, garlic, and 100% pure maple syrup. This is the first and only steak jerky to be made from 100% Fullblood Wagyu, creating the perfect amount of chew balanced with an astonishing melt-in-your-mouth quality. Artisanal, small batch jerky bursting with flavor. 
Each bag contains 3 ounces

of Jerky

. 
Make the most out of our Wagyu beef jerky and your wallet by purchasing our 4 bag bundle and get 2 additional bags for free! 
Additionally, save even more with the purchase of an entire case of Jerky. 
Prep Tips
Open Bag. Insert Jerky in mouth. Enjoy!
Ingredients: Wagyu Beef, Water, Salt, Cane, Brown & Maple Sugar (100% Maple Syrup), Sodium Nitrite, Less than 2% Glycerin added to prevent caking, Pepper, Spices, Garlic Powder, Soy Sauce (Water, Wheat, Soybeans, Salt, Sodium Benzoate [less than 1/10 of 1% as a preservative]). Contains soy and wheat.

The best Jerky we've EVER had
Debora C., Verified Customer
Shipping Information
We ship via UPS & FedEx. Our standard ground shipping is 3-Day Ground. We also offer 2-Day Air, Overnight, and ** Overnight with Saturday Delivery options to ensure you receive your order for your special meal. Email info@lonemountainwagyu.com with any shipping and delivery questions. Not all areas are available for Saturday delivery, please email us for availability. Orders placed after 10am CST will ship the next eligible day, based on shipping preference.
*Free Ground Shipping for orders $100+ after discounts applied *(excludes Hawaii & Alaska)*
Free 2-Day shipping for orders $200+ after discounts applied
Ground shipping: $25 for orders under $100 (excludes Hawaii & Alaska
2-Day shipping: $55 for orders under $200
Overnight shipping: $75
See full delivery schedule
Handling & Thawing
Not digging into your Wagyu right away? Place your vacuum-sealed package in your freezer upon delivery. Your meat should be good for up to 12 months in your freezer… though we doubt it will stay there that long!
Have some time? Thaw your beef in the refrigerator for up to 48 hours. This is the best way to thaw, allowing the Wagyu to retain all of its natural juices for an exceptional flavor.
Hungry sooner? Keep beef in the vacuum-sealed package and submerge in a bowl of cold water for a few hours.
Change of dinner plans? Thawed steaks still in the vacuum-sealed package can be safely refrozen as long as they have remained refrigerated and have not been thawed for longer than a day.