Full Packer Beef Brisket - is currently on backorder. You may still purchase now though and we'll ship as soon as more become available.
Order Includes
1 Full Packer Brisket
Best for
Smoking, Braising & Marinating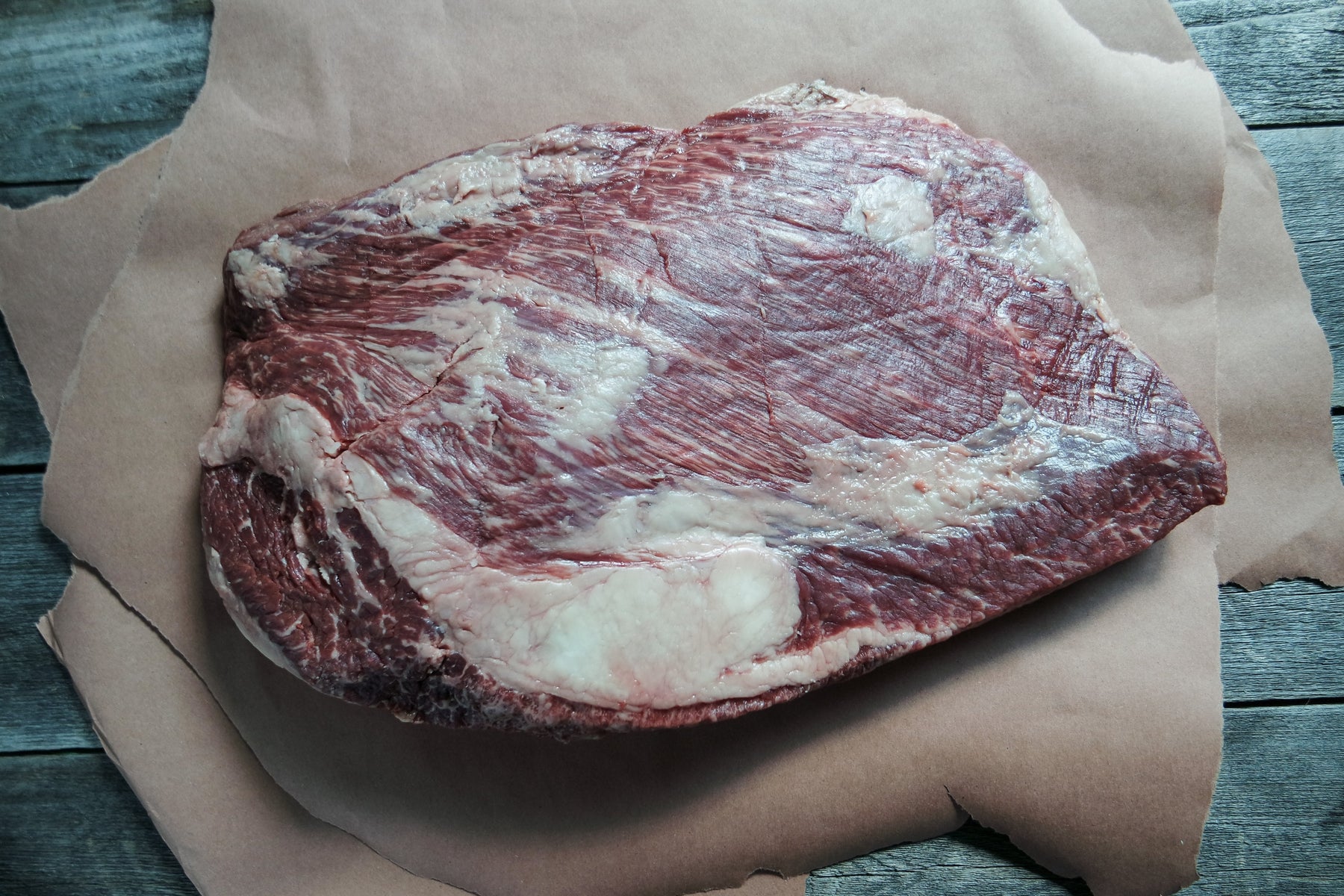 Product Details
This is the patriarch of Brisket: the Wagyu Full Packer Beef Brisket. Lots of marbling, lots of flavor, lots of… well… everything. You can smoke this beauty for up to 12 hours and end up with meat that so tender it brings tears to our writer's eyes and he can't even finish writing this up.

Extra Large Packer:  includes 1 Full Packer Brisket with Point, Fat Cap, and Deckle; weighing between 15 to 18 pounds
Large Packer: includes 1 Full Packer Brisket with Point, Fat Cap, and Deckle; weighing between 10 to 12 pounds
Small Packer: includes 1 full packer Brisket with Point, Fat Cap and Deckle; weighing between 7 to 9 pounds
Ships frozen, vacuum sealed, on dry ice
No Hormones, No Subtherapeutic Antibiotics
Please note, due to natural variations, weight of actual full packer beef brisket may vary.
Product Details
Become King of the Barbecue, Duchess of the Dutch Oven, or Sultan of the Smoker. The abundant marbling present in our Fullblood Wagyu Packer Brisket  ensures a meat so tender it will fall apart on your fork, no matter what your preparation of choice.
There's no doubt, a Fullblood Wagyu Beef Full Packer Brisket  is the holy grail of barbecuing. This cut of meat is often smoked for as long as 12 hours, and there is never ending debate on the best techniques – we've provided some ideas below to get your started.
Prep Tips
Thaw the prized Wagyu brisket as you see fit (see below under "Handling and Thawing" for deeper guidance.) We also suggest bringing thawed beef to room temperature for 30 minutes or so.

The roasts, brisket and ground beef elevate the game exponentially.
Sean S. , Verified Customer
Shipping Information
We ship via UPS & FedEx. Our standard ground shipping is 3-Day Ground. We also offer 2-Day Air, Overnight, and ** Overnight with Saturday Delivery options to ensure you receive your order for your special meal. Email info@lonemountainwagyu.com with any shipping and delivery questions. Not all areas are available for Saturday delivery, please email us for availability. Orders placed after 10am CST will ship the next eligible day, based on shipping preference.
*Free Ground Shipping for orders $100+ after discounts applied *(excludes Hawaii & Alaska)*
Free 2-Day shipping for orders $200+ after discounts applied
Ground shipping: $25 for orders under $100 (excludes Hawaii & Alaska
2-Day shipping: $55 for orders under $200
Overnight shipping: $75
See full delivery schedule
Handling & Thawing
Not digging into your Wagyu right away? Place your vacuum-sealed package in your freezer upon delivery. Your meat should be good for up to 12 months in your freezer… though we doubt it will stay there that long!
Have some time? Thaw your beef in the refrigerator for up to 48 hours. This is the best way to thaw, allowing the Wagyu to retain all of its natural juices for an exceptional flavor.
Hungry sooner? Keep beef in the vacuum-sealed package and submerge in a bowl of cold water for a few hours.
Change of dinner plans? Thawed steaks still in the vacuum-sealed package can be safely refrozen as long as they have remained refrigerated and have not been thawed for longer than a day.