Wagyu Ground Beef - is currently on backorder. You may still purchase now though and we'll ship as soon as more become available.
Order Includes
4 x 1 lb. packages of Ground Beef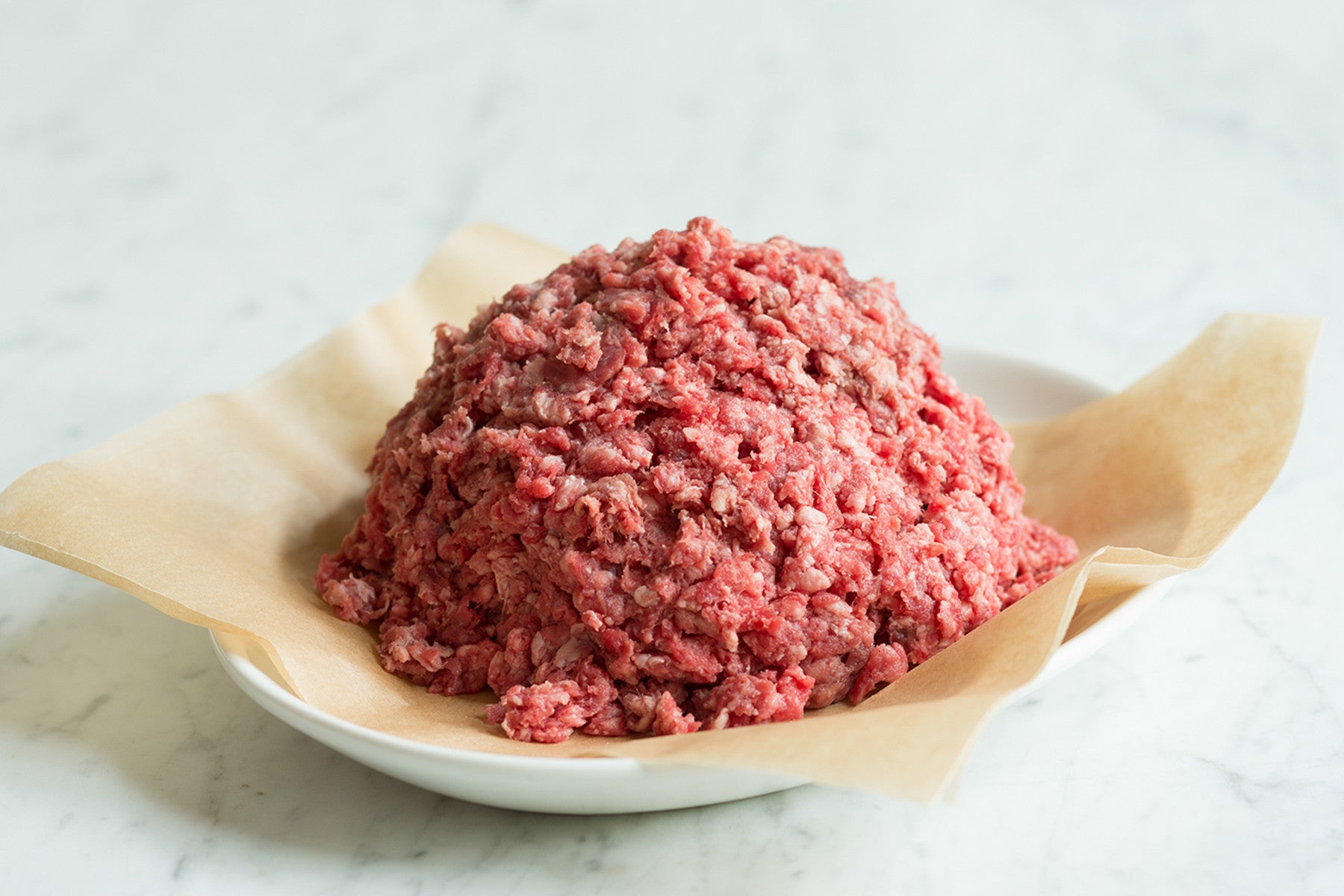 Product Details
Wagyu Ground Beef makes everything… better. Burgers are richer. Bolognese more intense. Meatballs and chili become legendary. Tacos… Lasagna… anything... just becomes more… itself. Like the Ground Beef somehow brings out the essence of any dish you cook with it.
We could go on. But you're salivating already.
4lbs of ground beef contains FOUR 1 lb ground beef packages
Online Wagyu ground beef ships frozen in individual vacuum sealed packages and on dry ice
No Hormones, No Subtherapeutic Antibiotics
Expand for details
Product Details
From the grill to the crockpot, our buttery, rich 100% Fullblood Wagyu Ground Beef will be your new best friend. It promises to make your burgers, Bolognese, meatballs, chili, lasagna, tacos, or anything else you choose to add it too absolutely incredible. Made from a blend of select cuts.
Preparation Tips
Thaw your Wagyu in the refrigerator for 24 hours. Once thawed, allow meat to reach room temperature for 30 minutes.
For the most memorable burger ever, start with our 100% Fullblood Wagyu ground beef. It has just the right amount of fat, and more importantly, just the right kind of fat. Don't add anything to this beef when forming the patties. And remember, you'll want the burger to fit the bun, so form the patties out of 6–8 oz of beef. Pack them very lightly, just enough to form the patty and have it hold its shape. Since the burger will grow a little taller in the middle once it's cooked, press a little dimple in the center. This will keep the top flat. Put some salt and pepper on one side.
On the grill, use medium high heat. Place the burgers on the grill salted side down, and then let them cook. Add some salt to the top side. You can turn the burger 180 degrees, but resist the urge to constantly flip or press down on the burger. After about 5 minutes flip the burger to cook the other side. A 180 degree rotation about half way through the 5 minutes is acceptable. By not handling the burger too much you allow the full flavor of the juices to baste the meat and enhance its flavor.
See below for more Recipes and Tips featuring our 100% Fullblood Wagyu Ground Beef
Prep Tips
Once you receive your Wagyu ground beef from online, thaw it when and how you see fit
Once you receive your Wagyu ground beef from online, thaw it when and how you see fit (see below under "Handling and Thawing" for deeper guidance). We also suggest bringing thawed beef to room temperature for 30 minutes or so.
Our ground beef is versatile. You can prepare it anyway you'd like. All you need is your favorite recipe or use one of our wagyu-specific recipes and you are golden.

Best burgers ever anywhere. Nothing else needs to be said.
Charles W., Verified Customer
Shipping Information
We ship via UPS & FedEx. Our standard ground shipping is 3-Day Ground. We also offer 2-Day Air, Overnight, and ** Overnight with Saturday Delivery options to ensure you receive your order for your special meal. Email info@lonemountainwagyu.com with any shipping and delivery questions. Not all areas are available for Saturday delivery, please email us for availability. Orders placed after 10am CST will ship the next eligible day, based on shipping preference.
*Free Ground Shipping for orders $100+ after discounts applied *(excludes Hawaii & Alaska)*
Free 2-Day shipping for orders $200+ after discounts applied
Ground shipping: $25 for orders under $100 (excludes Hawaii & Alaska
2-Day shipping: $55 for orders under $200
Overnight shipping: $75
See full delivery schedule
Handling & Thawing
Not digging into your Wagyu right away? Place your vacuum-sealed package in your freezer upon delivery. Your meat should be good for up to 12 months in your freezer… though we doubt it will stay there that long!
Have some time? Thaw your beef in the refrigerator for up to 48 hours. This is the best way to thaw, allowing the Wagyu to retain all of its natural juices for an exceptional flavor.
Hungry sooner? Keep beef in the vacuum-sealed package and submerge in a bowl of cold water for a few hours.
Change of dinner plans? Thawed steaks still in the vacuum-sealed package can be safely refrozen as long as they have remained refrigerated and have not been thawed for longer than a day.