Wagyu Beef Sausage Links - is currently on backorder. You may still purchase now though and we'll ship as soon as more become available.
Order Includes
Different Quantities Available
Flavor Profile
Similar to Bratwurst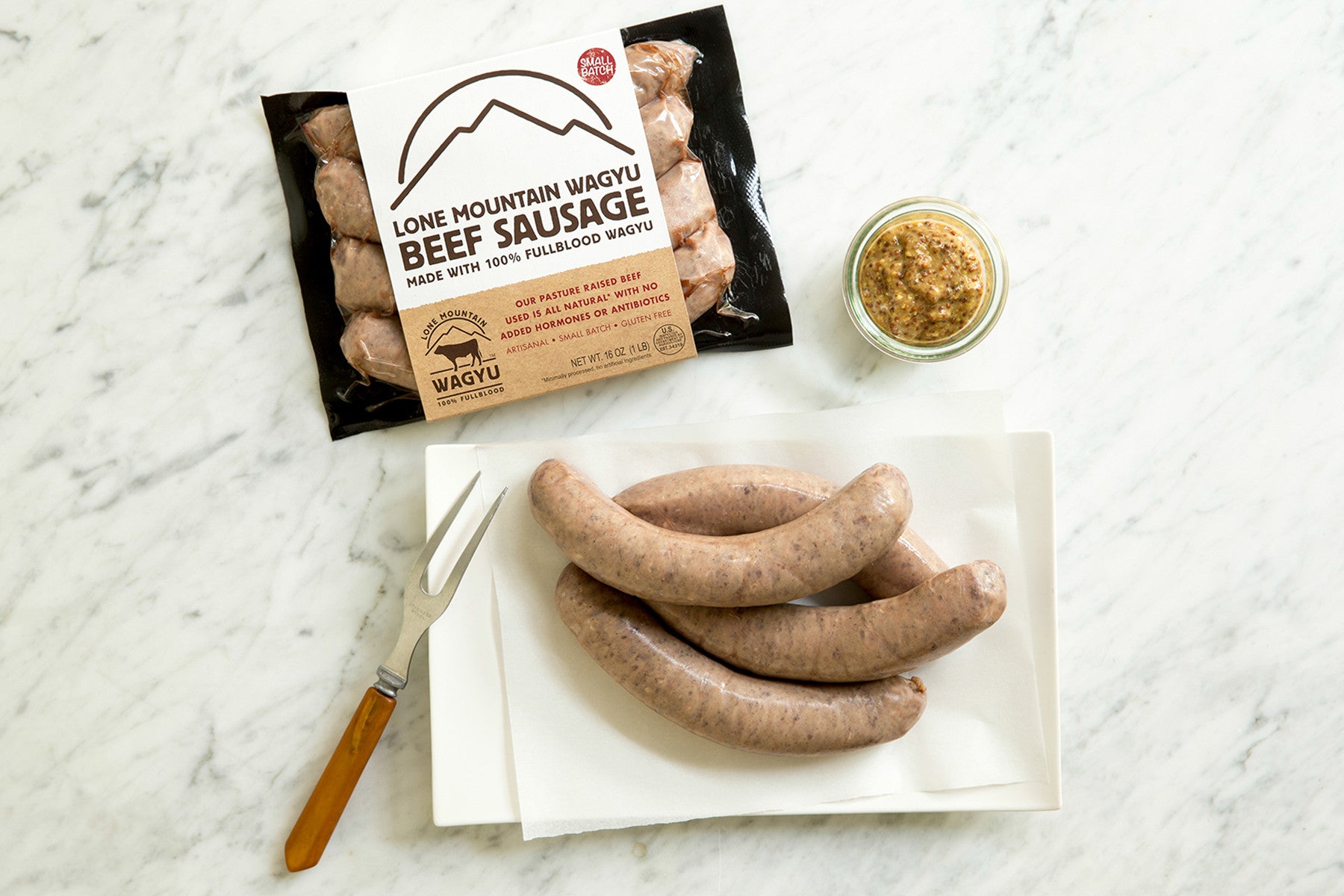 Product Details
Wagyu sausages? Are we insane? Have we gone too far? You might suspect that they are filled with unmentionable parts of the animal for us to waste such fine meat on… well… wieners.
You would be in error. Our wagyu beef sausage links are filled with a special blend of Filet Mignon, Striploin, Ribeye, Flat Iron, Brisket, and Ground Beef. That's it. No hormones, no antibiotics, preservatives or gluten. They're simply the best Wagyu beef, put together to make a gestalt dish that is greater than the sum of their already great parts. Enjoy anytime.
Take your meal to the next level with our Wagyu beef sausage links. From savory pasta dishes to hearty salads, you can take our sausage links and create something more robust and flavorful. If you're looking for something similar to bratwurst sausage but richer in flavor, Kobe beef sausage is just for you. Fire up your grill and cook a few Wagyu beef sausage links to amp up the flavor.

Each Wagyu Beef Sausage Link package weighs 1 lb. and includes four links/package

Has pork casing

Ingredient list:

Wagyu Beef, Water, Salt, Potato Starch, Black Pepper, Spices, Onion Powder, Lemon Powder (Dextrose, Citric Acid, Lemon Oil). 
Ships frozen and uncooked in freezer ready packaging
Gluten free, dairy free
Free of nitrates, nitrites & preservatives
No Hormones, No Subtherapeutic Antibiotics
Best consumed within 7 days of thawing
Ships on dry ice 
Product Details
Are you a fan of Kielbasa, Bratwurst, or sausage in general? Then our 100% Fullblood Wagyu Beef Sausage Links are sure to be a new favorite that will add an explosion of flavor to any recipe or meal.
Made from our proprietary blend of Filet Mignon, Striploin, Ribeye, Flat Iron, Brisket, and Ground Beef, these promise to be the most flavorful and juicy sausage you've tried. Our Wagyu Sausage Links are hormone and antibiotic free, gluten free, preservative free, and undeniably delicious.
Preparation Tips
Whether crisp and juicy from the grill, broiler, or skillet our 100% Fullblood Wagyu Beef Sausage Links will always be the star of your dish.
Fry some of these in the morning for an extra special breakfast. Our 100% Fullblood Wagyu Beef Sausage Links are also great grilled as a sandwich with onions and peppers or delicious on pizza in place of regular sausage. Or try our links in chili, lasagna, jambalaya, or any recipe calling for top quality sausage.
Thaw your Wagyu in the refrigerator for 24 hours. Once thawed, allow meat to reach room temperature for 30 minutes.
Grill: Heat grill to medium high. Grill links for 6 minutes per side
Skillet: Heat skillet to medium high heat. Place sausages in dry skillet. Add water to pan, covering ¼ of sausages. Cook for 3 minutes, then flip and cook on other side until water boils off. Add small pad of butter and cook until browned on both sides, flipping once.
See below for more Recipes and Tips featuring our 100% Fullblood Wagyu Beef Sausage Links
Prep Tips
Thaw the prized Wagyu beef sausage links as you see fit (see below under "Handling and Thawing" for deeper guidance).
Skillet: Fire up your skillet to a medium-high heat. Place Sausages in the dry skillet. Add water, to cover the bottom 1/4 of the sausages. Cook for about 3 minutes or so. Continue flipping and cook until water is boiled off. Add about 1/2 a tablespoon of butter (exact amount isn't the end of the world either). Cook until browned on the bottom of sausages. Flip and cook until other side is browned too. Slice, skewer, insert in bun. Whatever; just enjoy!
Grill: Use your favorite grilling techniques for our Wagyu sausages. Just make sure to cook them all the way through. These are raw.

Great products and easy to work with for special requests.
Jeffrey S., Verified Customer
Shipping Information
We ship via UPS & FedEx. Our standard ground shipping is 3-Day Ground. We also offer 2-Day Air, Overnight, and ** Overnight with Saturday Delivery options to ensure you receive your order for your special meal. Email info@lonemountainwagyu.com with any shipping and delivery questions. Not all areas are available for Saturday delivery, please email us for availability. Orders placed after 10am CST will ship the next eligible day, based on shipping preference.
*Free Ground Shipping for orders $100+ after discounts applied *(excludes Hawaii & Alaska)*
Free 2-Day shipping for orders $200+ after discounts applied
Ground shipping: $25 for orders under $100 (excludes Hawaii & Alaska
2-Day shipping: $55 for orders under $200
Overnight shipping: $75
See full delivery schedule
Handling & Thawing
Not digging into your Wagyu right away? Place your vacuum-sealed package in your freezer upon delivery. Your meat should be good for up to 12 months in your freezer… though we doubt it will stay there that long!
Have some time? Thaw your beef in the refrigerator for up to 48 hours. This is the best way to thaw, allowing the Wagyu to retain all of its natural juices for an exceptional flavor.
Hungry sooner? Keep beef in the vacuum-sealed package and submerge in a bowl of cold water for a few hours.
Change of dinner plans? Thawed steaks still in the vacuum-sealed package can be safely refrozen as long as they have remained refrigerated and have not been thawed for longer than a day.